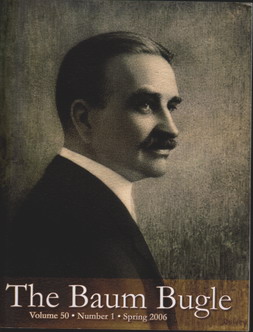 FRIENDS OF THE EMERALD CITY
Sergei Sukhinov, author of numerous latter day sequels to the original series of Russian "Magic Land" books inspired by Baum's Wonderful Wizard, reports that the Oz Club's sister organization in Russia, "Friends of the Emerald City," recently participated in number of events in Moscow.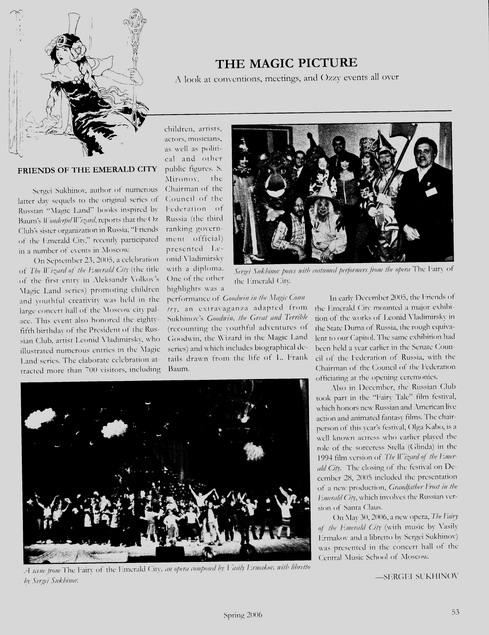 On September 23, 2005, a celebration of The Wizard of the Emerald City (the title of the first entry in Aleksandr Volkov's Magic Land series) promoting children and youthful creativity was held in the lagre concert hall of the Moscow city palace. This event also honored the eighty-fifth birthday of the President of the Russian Club, artist Leonid Vladimirskv, who illustrated numerous entries in the Magic Land series. The elaborate celebration attracted more than 700 visitors, including, children, artists, actors, musicians, as well as political and other public figures. S. Mironov, the Chairman of the Council of the Federation of Russia (the third ranking government official) presented Leonid Vladimirsky with a diploma. One of the other highlights was a performance of Goodwin in the Magic Country, an extravaganza adapted from Sukhinov's Goodwin, the Great and Terrible (recounting the youthful adventures of Goodwin, the Wizard in the Magic Land series) and which includes biographical details drawn from the life of L. Frank Baum.
In early December 2005, the Friends of the Emerald City mounted a major exhibition of the works of Leonid Vladimirsky in the State Duma of Russia, the rough equivalent to our Capitol. The same exhibition had been held a year earlier in the Senate Council of the Federation of Russia, with the Chairman of the Council of the Federation officiating at the opening ceremonies.
Also in December, the Russian Club took part in the "Fairy Tale" film festival, which honors new Russian and American live action and animated fantasy films. The chairperson of this year's festival, Olga Kabo, is a well known actress who earlier played the role of the sorceress Stella (Glinda) in the 1994 film version of The Wizard of the Emerald City. The closing of the festival on December 28, 2005 included the presentation of a new production, Grandfather Frost in the Emerald City, which involves the Russian version of Santa Claus.
On May 30,2006, a new opera. The Fairy of the Emerald City (with music by Vasily Ermakov and a libretto by Sergei Sukhinov) was presented in the concert hall of the Central Music School of Moscow.
—SERGEI SUKHINOV